Lending and more under same-sex marriage decision
Issues to watch under both federal and state laws and regulations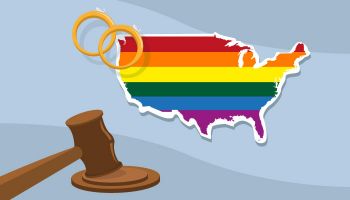 The U.S. Supreme Court's June 26 decision in Obergefell v. Hodges affects banking transactions. We asked longtime contributor Lucy Griffin, co-author of our "Common Sense Compliance" blog to sort out the issues.
Debates are over. The United States Supreme Court has held that same-sex marriage is a Constitutional right. What does the decision in Obergefell v. Hodges mean for banks?
The Equal Credit Opportunity Act and Regulation B require equal treatment of applicants without discrimination based on marital status or gender. What is allowed and what is prohibited is not always clear. Economic differences between married customers and single or not-married-to-each-other customers make it difficult to sort through the rules.
Because same-sex marriage is now a constitutional right, this is a good time to look at how Regulation B addresses same-sex marriage and marital status change.
Changing times under a longtime compliance regime
Ever since Congress passed the Equal Credit Opportunity Act making it illegal to discriminate on the basis of gender or marital status when making credit decisions, there have been bumps along the road to compliance.
On the whole, however, the banking industry has done well. Worksheets discounting the wife's income were quickly discarded. Credit was reported in the name of both husband and wife. Loans were made to individuals who had been married and divorced.
And—hardest of all—lenders learned to use the term "spouse" rather than "husband" or "wife."
Now the rules are changing again.
Marriage isn't only between husband and wife. It is between husband and husband, or wife and wife. Fortunately creditors are accustomed to using "spouse," which works in all situations. But it is time to look carefully at what situations are affected by this development.
State law issues to consider
It is an established principle of law that a proceeding, such as a marriage or execution of a will, that is valid in the state in which it is performed must be recognized as valid in all other states.
Thus, if a will is executed with two witnesses in a state that requires only two witnesses, the will must be treated as valid if presented for probate in a state that requires three witnesses. Under the law of the first state, the will was legally and properly executed and must be treated as such.
The same principle applies to marriage. A marriage that was legal in the state where it was performed should be recognized as legal in all other states, even if the process of the marriage did not meet all of the technical requirements in another state.
Because of the Supreme Court's decision, all states must recognize same-sex marriages as long as they were valid in the state where they occurred.

State law controls more than marriage and wills. It establishes how personal and real property may be owned.
It is important to resolve the marriage question because marriage plays a role in property ownership. Certain types of property and inheritance are available only to married couples. These distinctions can affect both loans and deposits or other non-real estate property. State law not only determines how property can be held; it also creates inchoate rights based on marital status.
When looking at how the state regulates marital property, be careful. Most states now use the gender-neutral term "spouse" when referring to property rights. But some may still use "husband" or "wife."
If the latter is the case, we have an interesting problem for same-sex marriages. Generally, a two-man married couple refer to themselves as husbands. So, does a protection for a surviving wife apply to a husband in a same-sex marriage?
This is a state-law issue. Watch out for any lingering gender-specific laws that can create problems. And when in doubt, put the question to your state's Attorney General.
Regulation B terminology to watch
When an individual applies for an unsecured loan, Regulation B prohibits the creditor from asking the applicant's marital status unless marital status is relevant by function of state law, as is the case with community property.
Reg B also restricts how the creditor may refer to marital status, using terms that do not refer to age or change of marital status. If an applicant applies for individual unsecured credit, a creditor shall not inquire about the applicant's marital status unless the applicant resides in a community property state or is relying on property located in such a state as a basis for repayment of the credit requested.
If an application is for other than individual unsecured credit, a creditor may inquire about the applicant's marital status, but shall use only the terms "married," "unmarried," and "separated."
A creditor may explain that the category unmarried includes single, divorced, and widowed persons. (See 12 CFR 1002.5(d)(1) )
Unsecured loan issues to handle
When taking security to support a loan, the ownership of the security property must be established. However, for loans that will be unsecured, property ownership is not usually an issue.
To prevent discrimination based on marital status, ECOA and Regulation B set strict rules on what information creditors may ask and consider when taking applications for an unsecured loan. Creditors may ask the applicant's marital status using only the three categories of married, separated or unmarried mentioned earlier. However, creditors may not ask information about the spouse unless the applicant is relying on resources of the spouse.
Whether the applicant is single or married, lending decisions on applications for unsecured loans must be made on the qualifications of the individual without asking about the resources or participation of a marital partner. The applicant must be considered on his or her own merits. Only if the applicant is relying on another party's resources may the creditor ask about the other party.
Secured loan issues to watch
Property securing a loan must be available to the creditor. Therefore, the ownership of the property is directly relevant to the creditor's rights, both present and future.
This is why Regulation B specifically permits the creditor to ask about the applicant's marital status and the ownership of property. However, the loan decision cannot turn on whether the applicant is married or unmarried. The decision should also not be based on the relationship between the co-applicants, whether partners, bound by civil contract, or unrelated.
If the applicant is requesting individual credit but relying on jointly owned property, the creditor may ask for relevant information about the property. This will usually be limited to how title is held. If the application is joint, the creditor may ask information about both applicants, regardless of their relationship to each other. If joint applicants are purchasing real property, it is important to establish marital status to determine the legal ways in which the property can be held.
Banks and mortgage servicers should also be prepared to deal with changes in property title based on a change in marital status. If, under previous law, the couple had to apply for credit and own property as two single individuals, they may wish to change how their property is owned if they marry.
Deposit accounts' status under the ruling
As with loans, state law controls how deposit accounts may be owned. This may be particularly important for savings accounts and individual retirement accounts. Depositors may want to revise their ownership and right of survivor statuses based on a recent marriage. Here, also, account owners may wish to revise the account ownership based on a change in marital status. Be sure the front line knows how to handle these requests.
Training for handling post-ruling issues
The front line, including branch staff and loan officers, is where problems are likely to occur. Banks should be concerned not only about compliance but about the tone and quality of service that all customers receive from the front line. Whether taking loan applications, opening accounts, or updating ownership status, the front line needs the tools and training to handle this smoothly and accurately.
Start at the top. This is a good time to review policies, procedures, tools and training materials, and to make any needed revisions to address same-sex marriage. Pay attention to state law but remember that the constitutional right prevails, no matter what may be tucked away in the state code.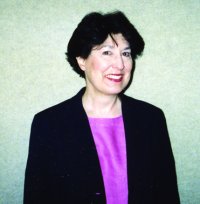 Latest from Lucy Griffin
back to top