Paying with shoes, sunglasses, and handshakes
MasterCard's fashion hackathon stretches wearables concepts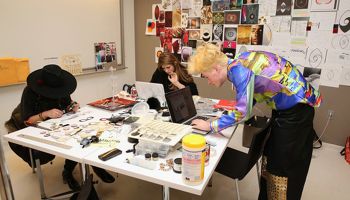 Robin Marchant / Getty Images
From the reporter's notebook: During a recent fashion hackathon designed to marry wearable payment methods and style, Team 3 labored against the clock to devise a funky pair of sunglasses that could also be used to make payments.
I was long grown up before those Transformers toys came out. You know, the ones that change from cars, trucks, etc., into giant robots. But I was always captivated, and still am, by toys and gadgets that are more than one thing at a time. That's part of my fascination with Swiss Army knives, and with a similar device I owned and lost years ago that was a "portable office," a combination stapler, tape dispenser, scissors, staple remover, measuring tape, and a bunch of other things.
I've been aware of, but not yet tried, the world of wearables nor the internet of things. But I've got an open mind—sort of—and a daughter who is a technical design student in a New York City fashion program. So when MasterCard announced a "Fashion and Design Hack" with partner Parsons School of Design (not my daughter's school), to see what fashion students could make of the idea of wearables, it piqued my interest.
Hackathon with a difference
The fashion hack comes under the "Commerce for Every Device" program at MasterCard, which was launched at last year's Money 20/20 event. That effort is intended to expand the concept of payments well past the 4" by 2.5" plastic rectangles most of us have carried around in wallets or purses for years.
"Commerce for Every Device" goes way beyond smart-device payment wallets. The program looks at spreading payments capability across automotive, fashion, technology, wearables, and who knows what's next. A few months ago I wrote about the company's work with Samsung on the "Groceries By MasterCard" service designed to run on the Samsung Family Hub internet-connected refrigerator in "Never run out of half-and-half again."
To skeptics, MasterCard posted an entry on its "Beyond The Transaction" blog earlier this year that explains the program. Here is an excerpt:
"Why is MasterCard transforming everyday items into commerce devices? Why does MasterCard care if you pay with a ring or a phone or a dress?
"The answer is simple. MasterCard believes in consumer choice. For the mom driving a carpool who finds herself constantly fumbling through her purse for her wallet, payment-enabled car keys make a lot of sense. For the urban fashionista who is late for her date, a payment-enabled ring to speedily pay for a taxi fits seamlessly into her fast-paced lifestyle."
MasterCard has partnered with other companies to find new ideas for this effort—one is Ringly, about which more later.
The payments company is constantly casting a wide net for input. Sherri Haymond, senior vice-president for digital payments and labs, says that the company has hosted many hackathons. Usually, she explains, they are software-based, where MasterCard shares an API (application program interface). One example is the international "Masters of Code" events the company hosts, which culminates with a group of finalists vying for recognition as best coder in the company's multi-day final round in San Francisco.
For wearables and other nontraditional media for payments, the key element is a token from MasterCard embodied on a chip. Using tokenization protects the user from loss of credit and transaction information.
Parsons, part of The New School, recently teamed with MasterCard to see what a competition among its students could produce. The process began with meetings explaining what the company was looking for. Over the course of this period, the school selected six teams of three students each. After briefings in advance of the day of the hackathon, the teams were ready for their competition, styled after the timed culinary competitions you see on the Food Network, Lifetime's Project Runway, and other channels, complete with a group of celebrity judges.
Haymond says one surprise was the depth of questions coming from the students. When they had the opportunity to query the company, they often wanted to know more about payment technology details. And they also wanted to know more about MasterCard itself. Haymond says that one team was very interested in the history behind the red and ochre circles that have made up the basic MasterCard logo for decades.
Vying for the "runway"
The day of the hackathon the student teams were off and running, eyes on the $15,000 in prize money and the chance to demonstrate their ideas at upcoming industry events. The program was open to students from Parsons' fashion, industrial design, product design data visualization, and design and technology programs.
Judges included Haymond and Parsons' fashion school dean, Burak Cakmak, as well as Adam Selman, a fashion designer involved in the Commerce for Every Device program, and Barnett Zitron, managing director of MADE, part of a sports, entertainment, and fashion conglomerate.
Three winners were selected by the judges—although to qualify each device had to make a test detector beep through presence of the chip. They included:
• Pay with your shoes. "We might forget our wallets, phones and keys when heading out for a quick errand, but rarely does anyone leave home without their shoes. Team 6 designed a microchip to be inserted into the insole of a shoe and NFC-enabled foot reader that would be conveniently placed at the base of checkout counters to make it easy for consumers to 'foot' the bill."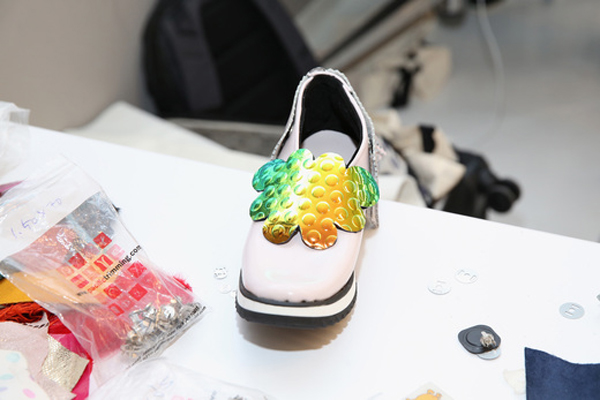 Robin Marchant / Getty Images
• Pay with your handshake. "It takes creative and smart technology to nurture human interaction in a digitized world. To make this concept come to life, Team 4 chose to embed a chip in a small handheld device so every transaction can be made and recorded with a simple handshake." [This team drew its inspiration from the overlapping circles of MasterCard's logo.]
Robin Marchant / Getty Images
• Pay with your sunglasses. "Team 3 created a standardized way to embed chips in wearables, starting with a funky pair of sunglasses. The chic shades had a tiny, almost invisible, slot for a chip. The team also recommended open sourcing to enable multiple eyewear designers with the payment capability."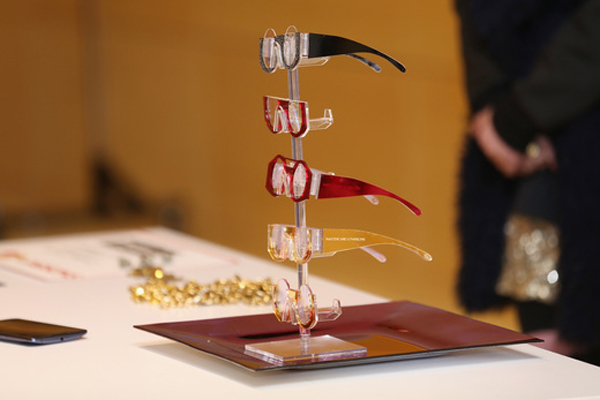 Robin Marchant / Getty Images
Wearables mark a shift in control
Discussing this program and the hackathon with Haymond led to a fresh perspective about wearables as payment devices. That part of the interview began with a recollection of a press conference long, long ago, also involving MasterCard.
In mid-1985 Russell Hogg, then president and CEO of the company, summoned reporters to see a new idea. The company had only recently changed its name from Master Charge, to reflect the expanding use of plastic cards beyond credit.
Now Hogg (pronounced "Hoag") wanted to unveil the MasterCard chip in the card. It featured a hologram, and anti-fraud technology involving a chip. Of course this was long before the EMV chips that are increasingly being adopted. In fact, while the hologram became a standard antifraud device in time, the chip didn't take off.
But that day each reporter received a dummy card, complete with a chip, and a press kit. Inside the press kit was a fat report detailing all of the different tests the chip card had been subjected to. It may sound boring as hell, but I found all of this fascinating, in part because my father had once worked for a testing lab. The engineering report detailed how the cards had to survive through many, many simulated "sit-downs" as if it were in a wallet. There were water immersion tests, and more.
That report came to mind when considering wearables. One of the devices already adopted into the program is the Ringly family of smart rings. Haymond says soon Ringly owners will be able to use their rings to pay for taxi rides and other purchases.
What I wanted to know was, how could casual consumer abuse—such as habitally tapping a ring on a table edge—accidents such as putting a wearable in the wash, etc., affect this new idea. I mean, even with our ubiquitous credit and debit cards, the very careful among us keep them in those little sleeves that protect the mag stripe.
Haymond acknowledges the physical risks to the payment device, and says this marks a change in the game.
The traditional plastic card is something that MasterCard "controls from end to end," says Haymond. The size, the thickness, every technical detail, must conform to rules. In fact, technically speaking, the card issuing bank or other party owns the card itself, and MasterCard licenses its branding.
As payments are made through smart devices and, through programs like Commerce For Every Device, almost anything can become a payment instrument, the arrangement changes. Haymond explains that MasterCard and other participants can set how the technology—such as a chip—in a wearable functions within the payment system. But the device itself is completely out of the control of anybody but the owner-user.
So, Haymond explains, MasterCard can't guarantee that a device will necessarily work when you want to pay. There will be less control by MasterCard, she says, and more will be in consumers' hands. Chips from MasterCard used to enable payment functions would be tested, as they are the core product.
"As innovation happens," says Haymond. "Some things have to change a bit."
Click above to see video
Also view Parson's coverage of event and students at work on wearables
Latest from Steve Cocheo
back to top