Pounds and pence, as you like it
Chips, coins and "chips": A Yank's encounter with Her Majesty's bank branches, payments, and currency
The British are ahead of us in many parts of retail banking, but they still like the various generations of their hefty pound coins.
Bank branches, payments systems, even coins vs. paper notes—all were subjects of very unscientific but up-close observations I personally experienced during a recent holiday in the United Kingdom.
My wife and I traveled from London to the Cotswolds, South Wales, and Cornwall, and then back to London. A fabulous trip, despite driving on the left-hand side. I took the opportunity to observe various banking and payments situations there and now relate them to their parallel situations here in the United States.
Bank branches
It was a very pleasant Friday in the little town of Abergavenny, Wales. The town center was blocked off for pedestrian traffic, and there were plenty of pedestrians.
There also were plenty of bank branches on the main street, and all were or were in the process of being renovated into what we would call the "branch of the future." That is, all of the six I peeked into—Lloyds, Natwest, Nationwide, Halifax, Santander, and HSBC—offered no more than three teller lines each, ATMs inside and out, lounge-like sitting areas, and numerous side offices for consultations. A few had kiosks for self service.
I chatted up the greeter at Natwest. Her bank obviously was in the process of a total rehab on the inside, while maintaining a proper old British building façade on the outside, complete with the inscription "Old Bank" chiseled above the third-story windows.
"We're changing our branches throughout the U.K.," she told me. "Fewer teller stations make it easier for people to get in and out."
Down the road at HSBC, a teller there—idle at the moment—said much the same thing, although she allowed that: "In Cardiff [a major Welsh city] the branches are much larger."
There were some differences, I noted. I went into the Lloyds branch and it was huge, though with only three teller lines. It did have a separate station for its proprietary "Club Lloyds," although there was nobody there at the moment. In fact, I sat down and quite obviously made some notes, yet nobody approached me.
I should note here that banking by smartphone and tablet has become the leading way customers manage their finances in the U.K., according to the British Bankers Association. Its recent survey, World of Change, documented a 6% decline in branch transactions in 2014. However, it did point out that a recent rule change allows banks to offer their services through 20,000 British post offices. As BBA puts it: "The average banking service is 1.4 minutes away [by foot]—closer than the average local pub (1.6 minutes)."
Detail from British Bankers Association's World of Change report. For full report, please click on the image.
Another difference I noticed—over at the Nationwide Bank, big posters touted the option to use Apple Pay, calling it "The New Way to Pay."
Which brings up …
Payments: Where they hug chip-and-PIN
The British clearly have embraced plastic, and specifically, chip-and-PIN. No matter where you go, whatever point of sale you encounter, you automatically look for the little device in which to stick—not swipe—your card.
We encountered this at hotel reception areas; restaurants; pubs (you needed those after the roadway close encounters); stores; theaters; and even (although not all) taxis. In the restaurants, the servers typically carried their devices in little hip holsters which they whipped out when you asked for the check.
Being American, and equipped only with chip-and-signature cards, I had been a little apprehensive, but my fears were allayed. Every time I admitted I had to sign the receipt, the person was very gracious and promptly printed out a slip.
However, at only one place—a book store—did the clerk actually compare my signature to the one on my card. I asked her about that and she said, "Oh, legally, you have to compare the signature with the card."
Every other time the person seemed much more interested in speeding up the process than with verifying identity.
ACI Worldwide observed in a blog post earlier this year that the U.K. rollout of EMV was accompanied by a "massive, government-funded advertising campaign" and that "banks pitched in" with their own public awareness efforts.
Apparently that worked, and plastic payments are the rule.
Which brings up…
The one-pound coin: a hunk of memorable metal
For Westerners this takes a surprisingly lot of getting used to. The coins themselves are like fat quarters in size. You tend to get them in change, such as when you are in "cash-only" taxicabs, or when you spend the 20-pound notes you exchanged at the airport ATM.
You feel a little foolish giving a few of these as tips to bell hops, for example, but they always accept them as if you'd given them a fiver back in the States.
The country switched to the pound coin in 1983 and it's not uncommon to find 1983 coins still in circulation. It's also a bit touching—the portrait of the queen on these coins has been changed three times, first depicting her as a young lady, then as a mature woman, and now in her later years.
A fourth, 16-sided edition of the coin is due out soon, primarily to deal with counterfeiting. A Royal Mint survey estimated that 2.5% of the coins in circulation are bogus.
Thirty-plus years on, the pound coin is entrenched in British society, even as plastic and digital payments start to take hold.
However, it makes you wonder if the long-running discussion of discontinuing the dollar note in favor of the dollar coin at this point finally is moot, as we Yanks eagerly embrace chip, digital, and who-knows-what-else types of payment systems.
One final personal note: The British were universally kind and friendly to us as we traveled through their country, and we hope we returned the same warm sentiments.
Cheers.
Technology Contributing Editor John Ginovsky at St. Ermin's Hotel, London. The Bank of England's just five stops away via London Underground.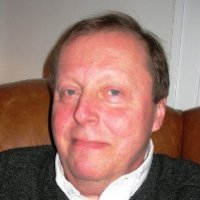 Latest from John Ginovsky
back to top