Byline Bank to Shut 20% of Branch Network
Annual savings of $4.3 million will be reinvested in digital offerings, the Chicago-based bank said
|
Written by Banking Exchange staff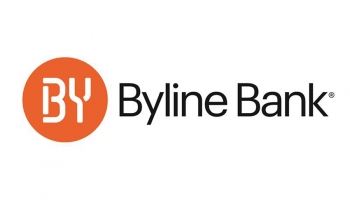 Chicago's Byline Bank is to close 11 branches – nearly 20% of its network – from the start of 2021, the company announced last week.
The closures are targeted at branches that overlap with other Byline locations, it said, with most affected premises situated within two miles of another Byline branch.
Byline said the move would save an estimated $4.3 million a year from 2021, which would in part be recycled into improving the bank's digital offering.
The closures will result in a one-off cost to the bank of approximately $5.9 million, Byline stated. It did not name the branches affected by the closures, but said the changes would start from December 31, 2020.
President and CEO Alberto Paracchini said: "The changes we are making to our retail branch network reflect the accelerating adoption of digital banking channels by our customers that has occurred during the Covid-19 pandemic.
"We are continuing to invest in technology that will further enhance our digital banking platform and enable us to respond to changing customer preferences, including adding electronic document signing, online consumer and small business account openings, and digital small business lending capabilities."
Several Byline branches are still subject to limited opening hours following measures in place to reduce the spread of Covid-19.
Fellow Illinois banking group Midland States Bancorp announced a similar move in August, planning to close or merge away 20% of its branch network. The proposal affects 13 branches throughout the state.
Paracchini said Byline's smaller network would be "focused on those sub-markets that present the most significant growth opportunities and where a physical presence is most valuable to our new business development efforts".
"We believe the continued streamlining of our branch network and the increasing leverage we expect from our digital platform will result in improved efficiencies that will positively impact our level of productivity while continuing to provide our customers with the service they deserve," he added.
US banks closed more branches than they opened in aggregate in the first half of 2020, according to data compiled by S&P Global, part of a multi-year trend away from physical premises and towards online and mobile services.
However, Brian Brooks, acting head of the Office for the Comptroller of the Currency, has warned banks not to use the COVID-19 pandemic as an excuse to reduce services to local communities or cut branches. He said the regulator had no intention of changing the rules regarding branch closures because of the pandemic.
back to top