BofA enters mobile mortgage fray
Rollout of Digital Mortgage Experience mobile banking app blends tech and human touch
Speaking on a panel organized around the launch of Bank of America's Digital Mortgage Experience, Michelle Moore, head of digital banking at the country's number two bank, observed that banks have an inherent advantage in customer trust. "It's the customer experience we have to improve."
The bank's new mobile and online mortgage application product is an example of such an improvement. Other mobile mortgage application products already exist, notably Quicken Loan's popular Rocket Mortgage, introduced in late 2015. There are several software platforms available that banks can use to build out a mobile app solution, but Bank of America is the first of the big three U.S. banks to roll out such a product for customer use. HousingWire reported recently that JPMorgan Chase and Wells Fargo's mobile platforms are due to roll out later this year.
Response in minutes
Aside from the trust factor mentioned above, the Bank of America mortgage application function is fully integrated into the bank's existing mobile banking app as well as its online banking platform, so that as soon as BofA customers enter their names, all but about 10 of the approximately 50 fields are auto-populated from existing customer account information. This compares to the 300 fields on average that must be filled on a typical mortgage application, noted D. Steve Boland, BofA's head of consumer lending. Boland also said that when non-BofA customers use the app to apply for a mortgage "we can pull information from Chase or other banks if the customer gives us permission."
Several features of the Digital Mortgage Experience were highlighted by the bank at a briefing in New York City this week. John Schleck, BofA's centralized and online consumer lending executive, pointed out several features in a one-on-one demo of the new app.
One was a slide-scale a customer can use to see how higher or lower closing costs would affect monthly payments. The scale sets the closing costs wherever the customer leaves the pointer. In addition, customers select from among various loan terms and can lock in a rate or choose to leave it open.
If a customer has to stop part way through the process to go pick up a child after school, Boland noted, she can save the application and return later to finish it.
Live help on tap
Bank executives emphasized that customers can access a bank lending specialist by phone or chat via a single click in the app. The specialists can access the application in progress and assist in completing it or answer questions.
Schleck said customers using the app are assigned a loan specialist and that initially these specialists will be in a centralized location. The specialists may contact the customer at the end of the process to review certain points, according to Schleck. An example he mentioned would be to confirm that a customer wants, say, a variable-rate loan versus a 30-year fixed-rate loan.
As Michelle Moore stated, "It's the latest example of our high-tech, high-touch approach to serving clients."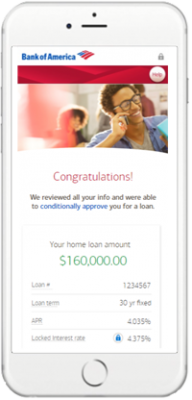 The BofA app issues a conditional approval initially.
According to the bank, clients in many cases will receive same-day conditional approval once they complete the digital application. In other cases clients may "need to supply additional information to complete the process."
Not speed per se but certainty
One of the panelists stated that the average time to complete the mortgage process from application to closing was 45 to 50 days. Asked if BofA's Digital Mortgage Experience capability would reduce that overall time, Boland responded that times vary considerably by geography because of state and local documentation rules. For example, the times in California are half the figures cited above.
Continuing, Boland said, "The first part of how you're speeding up [the mortgage process] is that you're not chasing documentation." He noted that when a client typically comes in for a mortgage application, if he doesn't have the right documentation much time is spent rounding it up. With the new mortgage app, once a person goes through it on their own schedule the lender isn't asking for additional employment or asset information because it's already obtained that through the app, which has e-signature capability. "The rest of the process," said Boland, "is already teed up and ready to go—getting an appraisal, making sure we've got insurance information, talking about the closing costs."
"In our pilot," said Boland, "we saw times substantially lower than what they were on average. But the real focus was less on speed than on 'Lets just be sure we close it on time'."
Latest from Bill Streeter
back to top