Looking at women in tech
Q. "How many women does it take to put on a tech conference?" A. "That's not the point"
Do you feel like your bank remains a few pages behind the class? Maybe that's not so bad. Anna Murray, the "Tech Sherpa," regularly presents real-world suggestions on how to solve technology conundrums.
Pop quiz! Scan the picture to the lower right. (Click on the image for a larger version to get a good look.)
Anything jump out?
It's an all-female speaker list.
Some might ask, "What's so strange about that? There are lots of women-in-technology conferences." Thing is, this isn't the speaker list for a women-in-technology conference. In fact, it's not the program for a women-in-anything conference.
HongKongA
"Managing Risk and Security for the Technology Transformation." That's the title of this annual cybersecurity conference in Hong Kong and what this all-female speaker lineup was corralled for. ISACA, the organizer of this event, is the professional association focused on cybersecurity and risk. (ISACA was formerly known as the Information Systems Audit and Control Association.)
"It was an idea from our Program Director Raymond Chan," says Leroy Yau, one of the event organizers. "He was inspired by the ISACA HQ initiative of SheLeadsTech. It was not easy though—there were times we were about to give up but I am glad we stuck to it!"
What stands out
Let's take a minute to savor the layers of wonderfulness here.
1. The conference organizers acted like it was all totally normal. Notice the headline on the speakers' list. It just says, "Learn from These Great Thought Leaders." Nowhere does the conference site say anything like, "Hey, we're doing this big-deal thing." It's as if the conference organizers are daring you to point it out. Like, "What? What are you looking at? Is there something in my teeth?"
It reminds me of what Ruth Bader Ginsberg said when asked how many women would be a sufficient number on the Supreme Court.
"There will be enough women on the Supreme Court when there are nine," she said.
She followed up observing there have been nine men on the court for centuries and no one thought that was too many.
2. How many women they found.
High-profile conferences have been slammed recently for having no female keynotes, as with this year's CES or RSA conferences. (CES was formerly known as the Consumer Electronics Show; RSA is another security conference.)
The perennial defense is that women can't be found or don't apply to be speakers. In particular, the RSA organizers said they couldn't find enough women in cybersecurity. (Note well that they were able to find Monica Lewinsky and somehow link her to the topic of cybersecurity.)
Somehow the folks involved organizing Hong Kong ISACA figured it out. And I mean not just one woman, or even 50%. They filled every spot with a woman.
According to Yau, the speakers themselves were not all that surprised to see an all-women lineup.
"They are all true leaders in their respective fields so they are very comfortable because they are all used to these types of conferences," says Yau. "They just probably have not seen one with all female speakers. (We did our due diligence—female was our criteria but that was not done at the expense of our high expectations for our speakers.)"
3. The questions that this bold move surfaces.
The all-female speaker list at ISACA Hong Kong challenges us to look how the "no women in tech" phenomenon is reinforced.
For example, instead of opining, like Larry Summers once did, that the under-representation of women in science is due to their lack of aptitude, one might question where the "normal" speakers' list comes from at a tech conference.
One obvious answer is from the industry corporate leadership, especially those on the sponsor list.
Take a look at the list of sponsors for RSA and their internal stats for women, per a recent count by CNet:
• Juniper Networks: No women in an 18-person leadership team.
• SANS Institute: No women in a six-person faculty.
• Symantec: 11% women. Two women in an 18-person leadership team.
• RSA Security: 13% women. One woman in an eight-person leadership team.
• Akamai: 13% women. Two women in a 15-person leadership team.
• Microsoft: 19% women. Three women in a 16-person leadership team.
• Cisco: 22% women. 14 women in a 64-person leadership team.
• IBM: 29% women. Six women in a 21-person leadership team.
• McAfee: 30% women. Three women in a 10-person leadership team.
As a recent New York Times article pointed out, there are fewer women who run big companies than there are men named John running big companies.
4. Breaking the vicious cycle.
As a speaker myself, I know the first thing conferences want is a video of you speaking at another conference. Doesn't take much to recognize the vicious cycle in place for potential women speakers.
Says Yau, "You never know, we don't need to inspire everyone in the conference (hope we did) because we only need one person from that crowd to continue bringing this forward."
ISACA Hong Kong has thrown down the gauntlet for other tech conference organizers. I wonder how many will answer the challenge.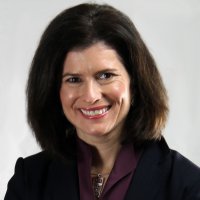 Latest from Anna Murray
back to top