Is CRA Compliance Enough for Community Banks?
Due to the ongoing pandemic, small businesses are struggling
|
Written by Jorge Sun, CEO and Co-Founder, LendingFront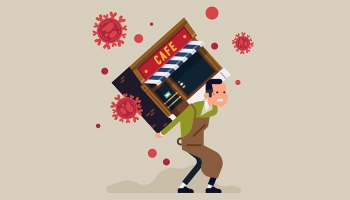 The Community Reinvestment Act needs little introduction to this readership—it encourages depository institutions to meet the credit needs of low- and moderate-income neighborhoods. Federal regulators assess and score how well banks fulfill their CRA obligations, and the score is then used to evaluate applications for future approval of bank mergers, charters, acquisitions, branch openings, and deposit facilities.
Of course, due to the ongoing pandemic, small businesses are struggling. But while large corporations and online businesses have largely weathered various restrictions, small businesses continue to face challenges as we brace for what experts are calling a third wave of infections.
According to a U.S. Census Bureau Small Business Pulse Survey, 79% of small businesses have felt a moderate-to-large negative impact from the pandemic, and we're unlikely to see another round of PPP before the year's end as a divided government is stuck in a stalemate. And for minority business owners, financial inequities have grown wider as the virus persists.
Community banks are nervous, too, as these factors generally make small business loans riskier. Many chose to only lend through the Paycheck Protection Program (PPP), considered a slam dunk as most loans would be forgiven—and the money came from the government and not the bank coffers.
It's an understandable mindset—but banks can do more to support their local small businesses and communities in today's climate. If financial institutions limit their community investment to terms laid out in the Community Reinvestment Act (CRA) or allocated through the CARES Act (of which PPP is part) it will hurt both the banks and their communities. After all, when small businesses collapse, that negatively impacts local banks in the long run.
CRA is the minimum
Banks should view the standards established in the CRA as minimal engagement, rather than the ultimate goal. The structural inequality that prompted the passage of the Community Reinvestment Act in 1977 still exists today, but on a heightened scale in the COVID era. Especially following the recent changes to the CRA that watered-down many of the provisions designed to protect minority communities, the decades-old legislation is not enough to keep the communities surrounding local banks thriving in this climate.
Additional help came through the CARES Act, but while the Paycheck Protection Program was designed to protect businesses and their employees, many owners found the process to be slow and opaque. The disappointment is felt most acutely within black communities, where 23% of business owners who did not receive PPP loans said their applications were denied without explanation, compared to just 9% of white business owners.
Record-breaking days on Wall Street can lull us into a false sense of security — The Dow recently hit 30,000 for the first time after all. But small businesses on Main Street are still suffering. That's where community banks come in. The federal government has tried to make it easier for banks, but administering PPP and EIDL loans is not enough. Continuing to keep capital flowing should not be viewed as an altruistic endeavor, but rather as a strategic one. It's a win-win approach to community and brand-building. Working with small businesses and adapting loan processes to better support the community through the pandemic benefits banks, too.
Smarter and more adaptable businesses present greater investment opportunities
The pandemic has forced businesses to make fundamental shifts in how they operate and to push innovation for the sake of survival. But these new strategies also position businesses better for future success and present attractive lending opportunities for banks.
Digital communications strategies are accelerating by six years according to cloud communications platform Twilio. Companies formerly tied to physical office spaces have grown their remote working capabilities, therefore removing barriers like a limited local talent base that could inhibit future growth. And updated health and safety protocols are protecting companies from potentially harmful mistakes and dangerous oversight in the future. Businesses may come out of COVID-19 stronger than they entered it, but only if they survive today.
Community investment boosts the bank's reputation
Banks emerged from the 2008-2009 recession with their reputations damaged. Community banks fared better than their large corporate counterparts who received billions of dollars in bailout funds, but few financial institutions escaped without some damage to their brand.
This damage is happening again—within days of the PPP loan application period opening in the spring, customer loyalties started to shift. Desperate for help, businesses were quick to abandon their existing bank if its process seemed to slow their access to the depleting funds.
The clunky PPP process established responsive and efficient small banks as the champions for small businesses. Now—it's time to take that reputation and build on it.
Customer service is more important than ever before as business owners continue navigating unprecedented challenges. With the right small business lending tools like automation, application scoring, and digital payments to streamline administrative functions, banks can prioritize their one-on-one conversations and deliver more personalized service to their customers.
Consumer preferences are pushing the objectives of the CRA into a new era, one in which brands are increasingly rewarded for their alignment with social justice initiatives. This summer, Netflix moved $100 million of its assets to banks it deemed supportive of Black communities, and individuals are following suit.
Community investment is more than just the right thing to do as myriad forces shine a spotlight on persistent inequity. It's that, of course, but it's also in a community bank's best interest to cement themselves as a pillar of the community and as a neighbor living the motto, "We're all in this together."
---
By Jorge Sun, CEO and Co-Founder, LendingFront
back to top