Good old ATM endures (as long as cash use endures)
Coming soon: Cardless cash withdrawals
Bank tech trends can make your head spin. So regularly longtime Tech Exchange Editor John Ginovsky does his best to "make sense of it all."
The venerable automated teller machine, now universally referred to by its initials, turned 50 in June, prompting speculation regarding whether it remains relevant in today's onslaught of space age payments technology developments.
The simple answer is: ATMs absolutely remain relevant.
The simple reason: People absolutely need hard, cold cash in their daily lives. After all, unless you have one of those electronic EZ Pass gizmos pasted to your windshield, how are you going to pay the toll on the turnpike?
Accessing that cash, however, is likely to change.
The tech trend now is to evolve to cardless cash transactions, using the ubiquitous smart phone and banking app.
Long ago, in a time far, far away…
To put things in perspective, today's ATMs are nothing like the one that debuted at Barclays' branch in London's Enfield High Street in 1967. According to The History Channel, that one required paper vouchers printed with machine-readable radioactive ink along with an identification code. Withdrawals were limited to £10 at a time.
(To mark the anniversary, Barclays this year installed a gold-colored ATM in the location of the very first machine. Read more on Barclays' website here.)
The first ATM was literally unveiled at the Barclays' branch in Enfield, in England, in 1967. The bank installed a gold-colored but modern machine in the same location to mark the occasion of the ATM's 50th anniversary. More generally, on this 50th anniversary, one could say that ATMs continue to have currency.
ATMs didn't come along in the U.S. until 1969 when a Dallas engineer and former professional baseball player, Donald Wetzel, devised his own machine. Like most ATMs today, it required a plastic card with account information stored on a magnetic stripe. (Now, that's slowly being superseded by chips embedded in the cards.)
In September of that year, a Chemical Bank branch on Long Island, N.Y., installed the first such machine.
Citi spreads ATMs around Gotham
While ATMs slowly gained traction through the 1970s, it wasn't until Citibank, in 1977, invested more than $100 million to install ATMs all over New York City.
The gamble paid off after a blizzard dumped 17 inches of snow on the city, closing banks for days—and ATM use jumped 20%. After that, again according to The History Channel, customers demanded ATM access from banks throughout the country.
The "ATM channel," as it's now referred to, has evolved and continues to evolve. As NCR Chairman and CEO Bill Nuti remarked on the observation of the ATM's 50th anniversary, "What started as a simple cash transaction device is now an indispensable platform that helps banks transform the branch and physical channel experience."
Bringing on ATMs' future
It seems that the future of ATM development, particularly as a cash dispenser, depends on three things, according to a white paper from Fiserv:
• It must get faster (quicker than the average 42 seconds per transaction).
• It must get safer (mitigating skimming and shoulder surfing).
• It must get more convenient (offering access wherever a consumer might be).
The answer, according to Fiserv in the white paper, and by other providers and banks: cardless cash.
"The opportunity exists to offer cardless cash options that address the needs of a broader group of financial institutions and consumers," Fiserv says.
Echoing this sentiment, Zilvinas Bareisis, a senior analyst at Celent, remarks in a blog: "What is starting to change, however, is how people get cash from the ATMs. The transition to digital is becoming notable in this area as well, with more banks offering an opportunity for their customers to withdraw cash using a mobile [phone] rather than a plastic card."
A global survey by ACI Worldwide sought to gauge consumers' expectations regarding ATM services. Not surprisingly, it concludes that consumers want new, innovative, and user-friendly ATM services. More specifically, says Mandy Killam, ACI Worldwide executive vice-president, "Consumers today have latched onto the convenience of tapping their mobile phones or swiping tablets to access their bank accounts or simply waving a contactless card over a card reader to make a payment. Many of them want to use ATMs in a similar fashion.
Call ahead seating, er, cash withdrawal
Mercator Advisory Group did its own research and found that about 75% of U.S. adults who are frequent ATM users have expressed interest in mobile cash access.
The process, known as "prestaging," allows a banking customer to set up an ATM withdrawal in advance (usually using a digital banking app), then, once at the machine, simply waving the phone near the machine.
One variant on this, now implemented by Wells Fargo, allows a user to obtain an eight-digit code to enter the machine, along with his or her personal ID code to retrieve cash.
Other technology providers have announced different approaches to cardless cash access.
In late June, FIS announced a partnership with Cardtronics to embark on a 24-month rollout of FIS Cardless Cash functionality. Briefly, consumers will leverage the mobile banking app with TouchID to withdraw cash at Cardtronics ATMs without using plastic cards. It claims that the transaction time will be reduced to 10 seconds, with electronic receipts sent to the customer's smartphone.
Also in June, Diebold Nixdorf teamed up with Samsung SDS America to showcase their version of cardless cash withdrawal. The twist here: Facial recognition will serve as the primary security factor. Using the prestaging protocol, consumers use their mobile phones to schedule a withdrawal. Once they approach the ATM, a near-field communications reader confirms the transaction, resulting in a prompt to complete authentication via the facial recognition functionality on the smartphone.
The companies claim that this process will shorten the transaction time by more than half that of a traditional session. Current plans are for Banco Popular de Puerto Rico to pilot this authentication method this summer.
What's banking's up side?
All of these developments sound good for consumers, but what's in it for banks? Mercator's research comes up with some specific possibilities.
One is the potential to encourage bank customers to set up recurring prestaging transactions, such as accessing cash on Saturday mornings while conducting regular errands.
"It would be a benefit to the financial institution because it would establish a regular and predictable shared-channel point of interaction between the customer and the financial institution," Mercator says.
Another could be integrating cash withdrawal behaviors with a bank's personal financial management app, which could actively compare the prestaged withdrawal amount with a preset budget plan submitted by the customer—and perhaps suggest a different amount to manage funds.
"Promoting mobile cash access as a way to more efficiently manage funds when not in the impulse-buying mode could be an effective way to promote the service's usage beyond pointing out its security benefits," Mercator says.
Which is kind of ironic. That echoes the motive behind Barclays' initial withdrawal limit of £10 (although that more likely was prompted by the bank's cash reserves limitations).
Still, there's little doubt that as long as people use currency to buy things, the ATM on the corner will be counted on to dispense it.
Sources used in this article include:
Cardless Cash And ATM Access: Choosing The Right Approach for Your Institution
Diebold Nixdorf And Samsung SDS Demonstrate Next Step In Cardless ATM Transactions With Mobile-based Biometric Authentication
FIS And Cardtronics To Expand Cardless Cash At ATMs Across The United States
Getting A Makeover at 50: ATMs Going Cardless
Mobile Cash Access As A Milestone In The Migration To Mobile Banking
NCR Celebrates The 50th Anniversary Of The ATM
The ATM turns 50: Consumers Demand Innovative, User-Friendly ATM Services With Better, More Secure Ways Of Authentication
Wells Fargo Introduces Cardless ATMs Across U.S. In Digital Push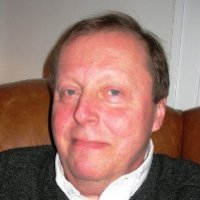 Latest from John Ginovsky
back to top