Sounds of saws and hammers
SNL Report: Residential construction lending starts to flourish in Northeast
SNL Financial is the premier provider of breaking news, financial data, and expert analysis on business sectors critical to the global economy. This article originally appeared on the subscriber side of SNL Financial's website.
By Chris Vanderpool and Ken McCarthy, SNL Financial staff writers
After a steady decline for several years, improving economies and low interest rates have contributed to a recent uptick in residential construction lending for New England banks.
Total one-to-four-family loans have risen slowly but surely across the region during the past two years—increasing from $3.21 billion in the first quarter of 2015 to $3.45 billion in the second quarter, an SNL analysis found.
Click to Enlarge Image
Christiana Thornton, president and CEO of the New Hampshire Bankers Association, told SNL that many banks in the state have experienced a steady increase in construction lending during the past few years. For example, she said one community bank recently told her that nearly 20% of its loan pipeline comprised construction loans as of August 2015. Looking back at 2010, only 7% of that institution's pipeline was made up of those loans, she said.
"There continues to be a steady stream of applications, and mortgage origination teams continue to have conversations with potential construction borrowers," Thornton said. "It is definitely an improvement and a step in the right direction after a long period of stifled activity."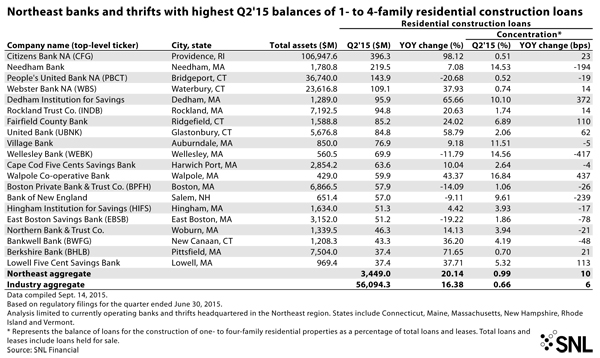 Click to Enlarge Image
Claremont Savings Bank is one of those New Hampshire banks that has been taking advantage of increased interest in the lending line. The Claremont, N.H.-based bank saw a 142.6% quarter-over-quarter gain from the first quarter of 2015 to the most recent reporting period.
Carol Vivian, a senior lender at Claremont Savings Bank, told SNL that the bank's situation is a bit unusual, however, as it is not seeing a lot of new home construction in its markets. Instead, there are several companies in the area near Dartmouth College that are acquiring properties and then doing major renovations on them—sometimes to the tune of $600,000 to $1 million.
"That's really been our biggest driver this year," she said, noting that the bank has obtained several of those loans.
New home construction has actually been relatively flat recently because the cost to build is still not reflective of what homes can be sold for in the current market. Construction costs in many instances are exceeding the amount that homes will appraise for when compared to recently sold homes, she said.
"So, people who want to build really need to have some substantial cash to put into the project, and they need to understand that it's not going to be worth what they have into it right out of the gate," she said.
But Claremont is seeing much more home purchase activity in its markets than it has in the past because people are starting to believe that interest rates might finally rise, and buyers want to get in while prices are still low.
And that has led to intense battles for those loans, with the stiffest competition coming from other community banks, Vivian said. She said the bank has benefited from its loan-to-deposit ratio — which is above 100% — while many banks in the area have not been so fortunate. That dynamic is creating an artificially low-rate environment in the bank's markets, Vivian said.
But not all parts of New England are seeing strong growth in residential construction lending. Willimantic, Conn.-based Savings Institute Bank and Trust Co. President and CEO Rheo Brouillard told SNL that while that lending line may be strong in most of the region it is "non-existent" in the eastern part of Connecticut.
"There may be one or two individuals who have contracted to build a new home, but there are no subdivisions that I'm aware of," Brouillard said. "I spoke to an excavator just this past Monday who said that he has not dug one single foundation this entire year."
As far as whether the recent improved levels of residential construction lending in New Hampshire are sustainable, Vivian of Claremont Savings Bank said that if interest rates start to rise but do so at a moderate pace, the bank will likely continue to see an uptick in purchase activity and construction lending as well. If rates rise quickly, which she believes is unlikely, the impact could be negative.
"Because for a while, people will think that rates are just too high after they've been low for so long," she said.
Vivian said the bank had budgeted at the start of the year for interest rates to rise in the third quarter. The company now expects that will happen late in the fourth quarter of 2015. "We figure eventually it has to happen," she said. "But for this year yet … I'm not willing to bet too much money on it."
The New Hampshire Bankers Association's Thornton said it appears that the state's economy is starting to improve, and the pickup in residential construction is one indicator of that improvement. Most banks are anticipating more loans to be submitted by year-end, she said. The banks that are active in residential construction predict loan volumes may even double compared to 2014, which she called "a solid indicator the economy is turning around."
Claremont Savings Bank President and CEO Sherwood Moody told SNL that the bank has had a busy 12 months putting on residential construction loans both through its branch network and a broker it uses in the Hanover and Lebanon areas.
"People are finally starting to purchase homes again," he said.
This article originally appeared on SNL Financial's website under the title, "Residential construction lending starts to flourish in Northeast"

Latest from SNL Financial
back to top